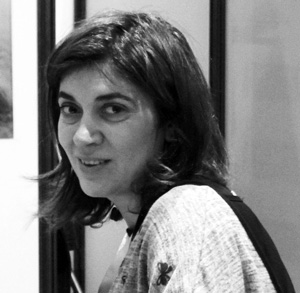 Stavroula Geronimaki
Operations Manager
[email protected]
+30 2103678530
Stavroula joined GREEK FILM CENTRE Greek in 2003 where she held various positions of increasing scope and responsibility (Sales and Promotion Executive, national representative of GFC at European Film Promotion). She joined the HELLENIC FILM COMMISSION in October 2018. She loves to facilitate and connect talents by consulting incoming producers on all aspects of filmmaking in Greece and serves as a liaison between them and the Greek film industry. Originally a media researcher, Stavroula has worked at the Hellenic Audiovisual Institute (responsible of European and International Program), the European Children's Television Centre, the Greek Film Archive, and she has cooperated as a tutor with the University of West Attica. Stavroula studied Mass Media & Communication and Cultural Management at the National and Kapodistrian University of Athens (GR) and at the John Moores University of Liverpool (UK).
Georgia Pina
Project Coordinator
[email protected] 
+30 2103678530
Georgia first joined the Greek Film Centre for a 3-month college graduate internship in 2019 and in January 2022 she joined the Hellenic Film Commission team as a Project Coordinator. She has
collaborated with the Athens Biennale as a Community Building Officer and a Social Media Manager, as well as
with various indie book-publishers as a Communications Associate, while volunteering first as a Communications
and Production Manager and finally as the Curator of TEDxUniversityofPiraeus 2020, the first TEDx event in Greece to
be held completely online. She envisions a pluralistic, inclusive and
new technology embracing cinema and hopes to support and connect visionary professionals from all around the world and introduce them to the vast potential of the Greek film industry landscape. She holds a BA in Theater and Dramatic Arts
from the University of Peloponnese and is currently pursuing a Master's Degree in Film and Cultural Studies at the National
and Kapodistrian University of Athens.