THE DURRELLS season 4, the highly popular ITV and PBS mini TV series, completed filming in Corfu island in Greece on October 11, after 33 shooting days. All previous seasons of the series have been filmed in Corfu island including Corfu old town, one of the eighteen (18) UNESCO protected monuments of Greece.
The story is based on the autobiographical trilogy of books by Gerald Durrell, the naturalist, explorer, writer and conservationist, about his family settling on Corfu island in 1933.

The fourth series is once again written by BAFTA award nominee Simon Nye (Men Behaving Badly, Reggie Perrin). The lead Durrells roles are played by Josh O'Connor (Lawrence, Les Miserables), Callum Woodhouse (Leslie, Cold Feet), Daisy Waterstone (Margo) and Milo Parker (Gerald, Mr Holmes). Produced by successful drama indie, Sid Gentle Films Ltd. in a co-production with Masterpiece, the new series sees acclaimed actress Keeley Hawes (The Missing, Bodyguard) reprise her role as matriarch, Louisa Durrell, for a final set of sun-soaked episodes. Other cast set to return include Alexis Georgoulis (My Life in Ruins) as the charming Spiros, Miles Jupp (Howards End) as hapless cousin Basil, Anna Savva (Genius) as housekeeper Lugaretzia, Yorgos Karamihos (Love Is…) as Dr. Theo Stephanides and Lucy Black (Jericho) as Florence Petridis. Roger Goldby (Call the Midwife) directs and Steve Barron (Treasure Island), who directed the first episode of season one will return to direct the series finale. Christopher Hall returns as producer.

Described as "pitch-perfect period escapism" by The Guardian and "a warm-hearted creation with a steely core and mischievous twinkle" by The Times, THE DURRELLS has received critical acclaim and proven hugely popular since its launch in 2016.
"We have been delighted to have had such a strong and productive relationship both with Corfu and with crew from Greece as a whole. To be able to film in the location so loved by Gerald Durrell and his millions of fans made a huge difference to the success of the show. We have been hugely impressed by the willingness, hard work and skill of the Greek crew and have made a lot of friends for life. The locations are beautiful and if not easy to service then every effort is made to help facilitate filming in a sensitive and thoughtful manner. We adore filming in Corfu and Greece", says Sally Woodward Gentle, Executive Producer The Durrells/Sid Gentle Films LTD, describing her experience of filming in Greece.

"Shooting The Durrells in Corfu has been a total joy from start to finish. We have all fallen in love with the island; it's stunning landscapes, the beauty of the architecture the friendliness of its people. More than that the experience of a mixed crew of British, Athenian and Corfiot film technicians working together has made for a very harmonious, dare I say it, European shooting experience. As a Producer I can't wait to film once again in Greece and I am sure that the new tax incentives will make this far more likely", notes Christopher Hall, Producer The Durrells.

"As a senior film business professional in Greece over the last 20 years, I realize how important it is for Greece to encourage any film production, either TV drama, feature film or documentary. The new Greek incentive allows us to compete globally with any other territory in the world. We know that we have great locations, very experienced technicians, film equipment and great actors but financial incentives are the key to sustaining our industry", says Kostas Raftopoulos, Line Producer Greece The Durrells.

The production filmed at the following locations in Corfu island: Kontokali, Corfu town, Kouloura, Agios Stefanos, Erimitis, Gastouri, Boukari, Paramonas, Poulades, Danilia, Skripero, Nisaki, Halikounas, Kouramades, Sinarades.

The production service company in Greece is Avion Films. The crew while filming in Corfu consisted of 90 Greek crew members (55 from the island of Corfu and 35 from Athens) and 85 crew members from the UK.

THE DURRELLS season 4, is officially approved by EKOME for receiving the Greek cash rebate.
The Hellenic Film Commission of the Greek Film Centre supported the production by facilitating the filming permits for the locations of THE DURRELS season 4.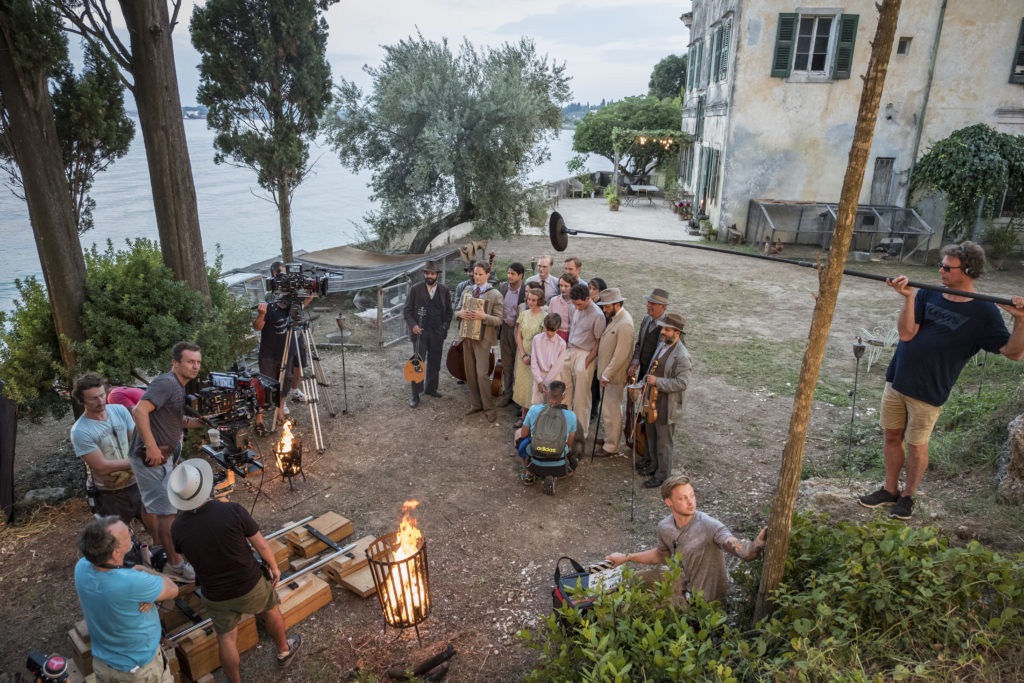 Photos: © SID GENTLE FILMS (TD4) LIMITED